Ziplining and Thrilling Forest Adventures in Japan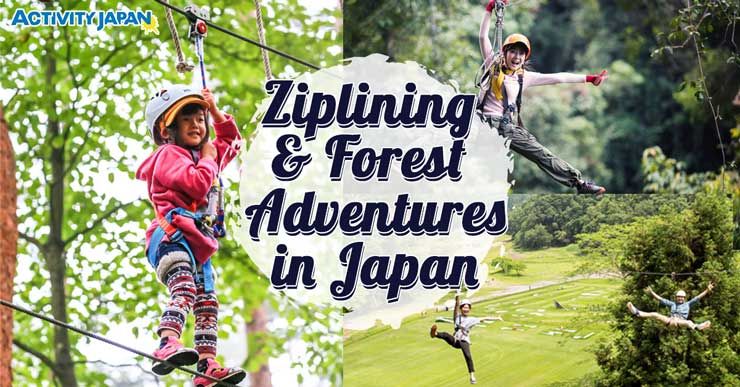 The concept of forest adventures is thought to have originated in France. A company called Altus designed a unique therapeutic course, involving ziplining and rope climbing, for a cooperate team building for a staff outing. The employees had a great time, and word spread of the amazing fun the course had to offer. Soon, Altus opened its doors to the public and the world, as a result of the skyrocketing demand for treetop experiences such as the first one. Many countries have adopted courses like that, and they have become popular holiday activities across America, Europe, Asia, and beyond.
Initially, La Foret de L'aventure, the experience is widely known in Japan through its English derivation, forest adventures, which is not as much a mouthful. It popularly entails ziplining between trees, walking footbridges of rope, seesaw swings, rock climbing, and more. In some cases, the experience may include barbecues and tubing. Course options exist in plenty in Niigata, Hokkaido, and Nagano, with the most remarkable being the country's longest zip line (510 meters) in Ikeda Town. With beautiful mountains and forests across Saitama, Chiba, Shiga, and Gifu, among other places, forest adventures in Japan offer adrenaline rush-cum-sightseeing activities!  Everyone can be part of the tours, which are open to children and adults alike!
That said, here are Japan's most thrilling courses!
1. Whizz through the air like a bat in Myoko, Niigata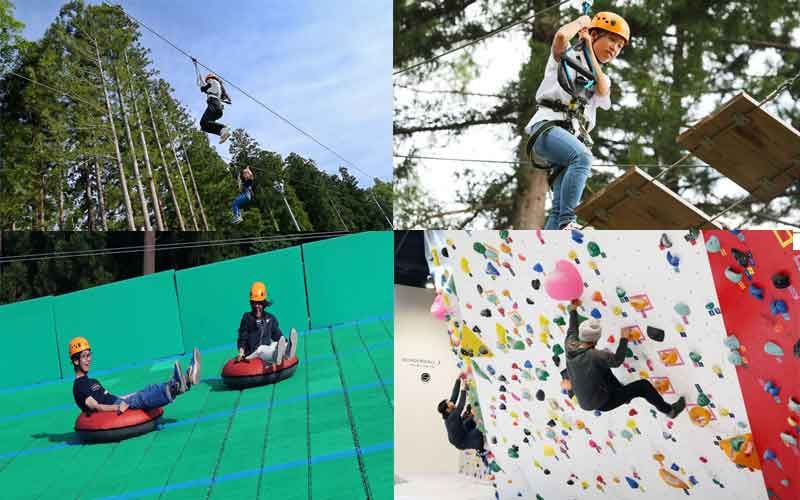 Clearing scenic spaces between forests of pine, ziplining adventures in Myoko will have you screaming for more as you heroically hurtle in sunshine-filled air! These forest adventures also entail bouldering, sliding on huge rubber tubes, and more!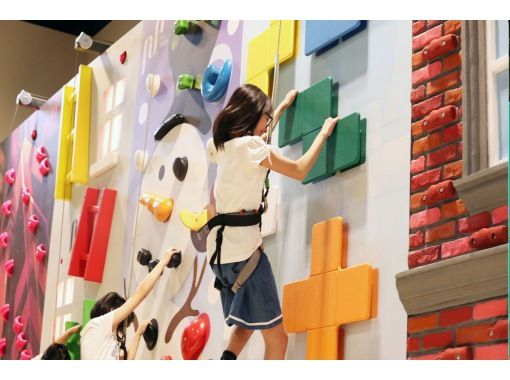 One-Day Adventure Pass at Lotte Arai Resort: All Season Tubing, Zip lining, Bouldering, and More!
Myoko, Niigata
Enjoy a Unique Adventure in the Forests of Niigata in a Beginner and Family-Friendly Zip-lining and Tree Climbing Course!
Myoko, Niigata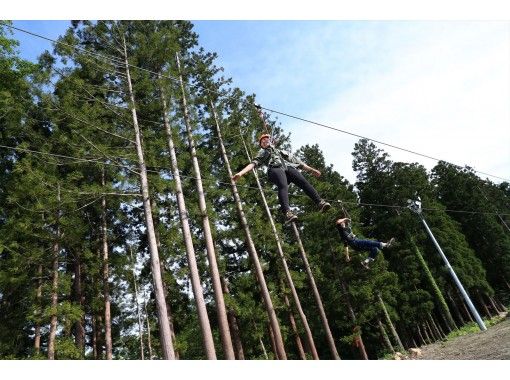 Enjoy a Thrilling Ziplining Adventure at the Lotte Arai Resort in Niigata!
Myoko, Niigata
2. Learn the ways of the forest ninja in Gero city, Gifu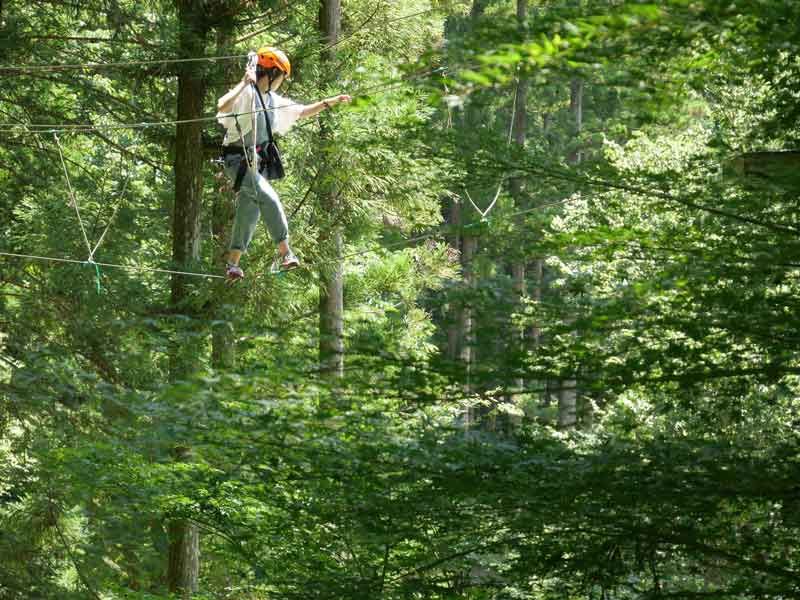 Test your balance against dangling footbridges as you make your way around a forest obstacle course and swing between branches like monkeys. Some time alone, or with the entire family, in nature is sure to do you a whole lot of good!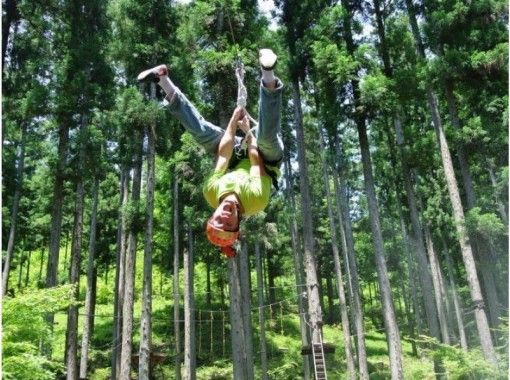 Fun Forest Adventure for Active Nature Enthusiasts Such as Ziplines, Ninja Traps, and More! Beginner and Children Friendly Course in Gifu!
Gero, Gifu
3. An Eniwa, Hokkaido forest adventure, inclusive of 3-year-olds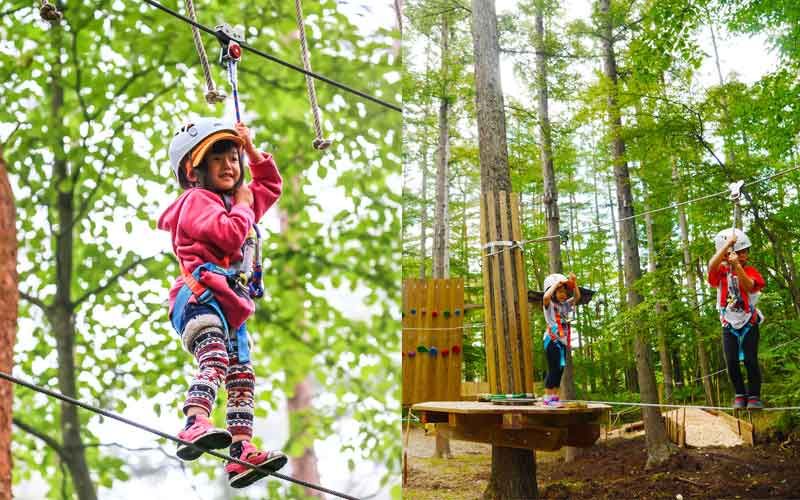 Is your little one's birthday coming up? Surprise them with a kid's course in Eniwa that has many health and mental benefits. Adults can also roll back the years and experience the simple pleasures of treetop playgrounds!
4. Seesaw fun and treetop bridges in a Nagano park
Bring the entire family along for a special day out with Mother Nature, with serene spots modified to ensure nothing but fun wherever you look. Be it swinging through the air like a pendulum or scaling high rope bridges; we have all you need for the best time ever!
5. Rediscover true happiness in Chiba!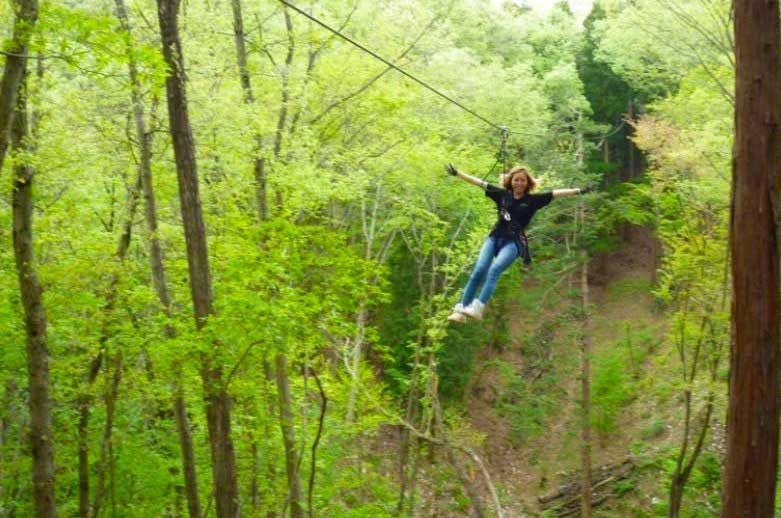 Are you feeling sad and low? Well, not anymore! Turn that frown upside down with a forest adventure in Chiba. With nothing but green freshness around you, this course offers relaxing climbs and ziplines!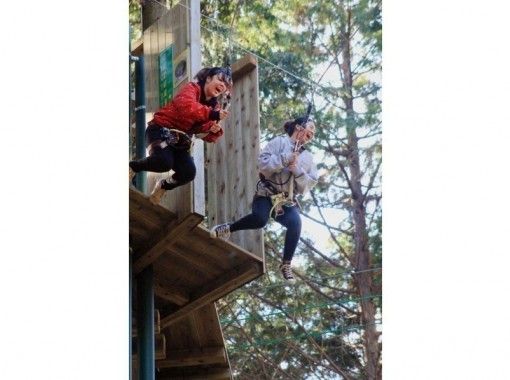 Swing Like Tarzan from the Trees with Your Friends and Family in an Outdoor Forest Adventure Chiba!
Norocho, Wakaba Ward, Chiba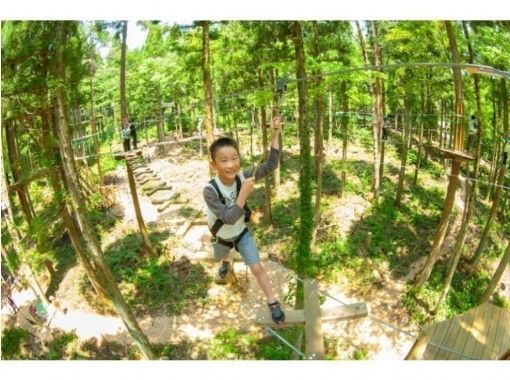 Enjoy a Fun Outdoor Adventure near Tokyo at Chiba's Forest Park: Experience Zip Lining, Treetop Climbing, and More!
Norocho, Wakaba Ward, Chiba
6. A unique weekend zipline getaway in Chiba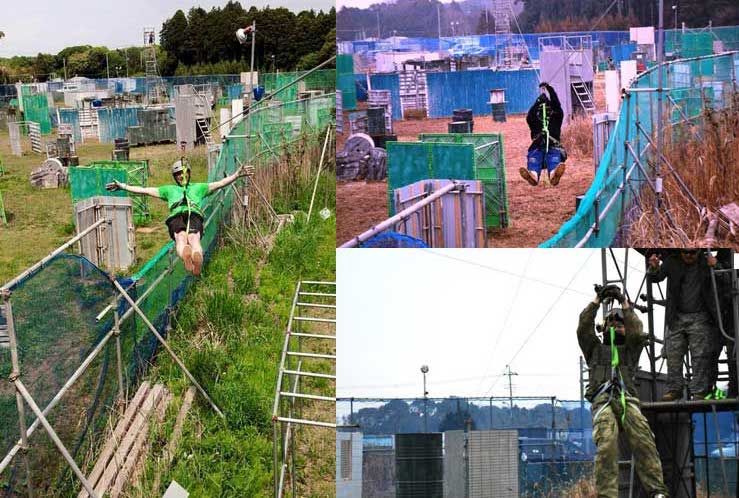 Take it easy with a 2-hour zipline course in the peaceful outskirts of Ichihara. If you're looking for something exciting and out of the box to do over the weekend, this is it! The 90-meter-high cables will provide all the adrenaline you need!
7. Hyogo experience to brighten up your day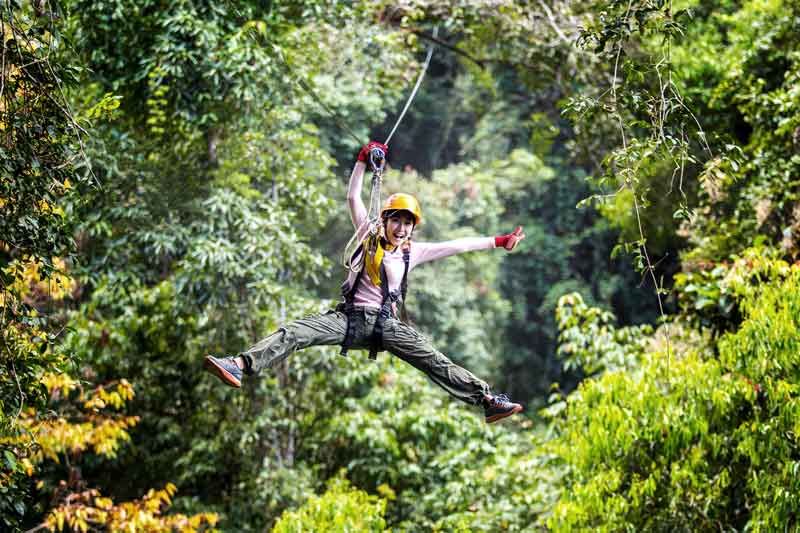 Answer the call of the Hyogo wild, via a forest plan in Toyooka that features a special crab pizza! Run about the trees on a zipline and hone your skills with rope walking, net climbing, and more!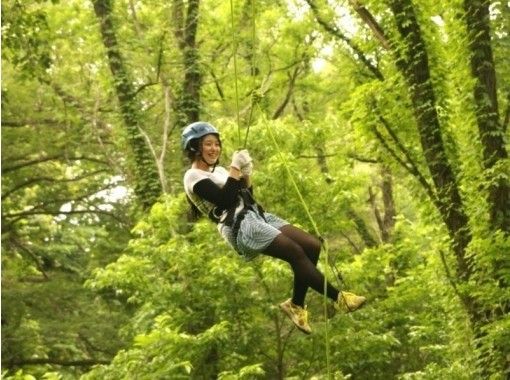 Climb Trees and Enjoy the Superb Nature Views in Hyogo! (Half-day Course)
Toyooka, Hyogo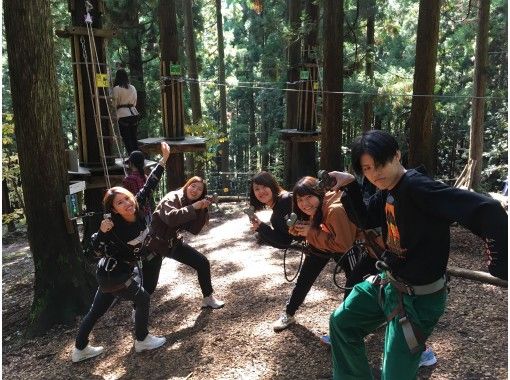 Play in the Outdoors with Your Friends and Family in an Exciting Oku Kannabe Forest Adventure (Zip-Lining, Tree Climbing, and More!)
Toyooka, Hyogo
Zip-Lining, Climbing, and Other Forest Adventures at Oku Kannabe an Outdoor Park in Toyooka City!
Toyooka, Hyogo
8. Conquer a forest park in Chiba!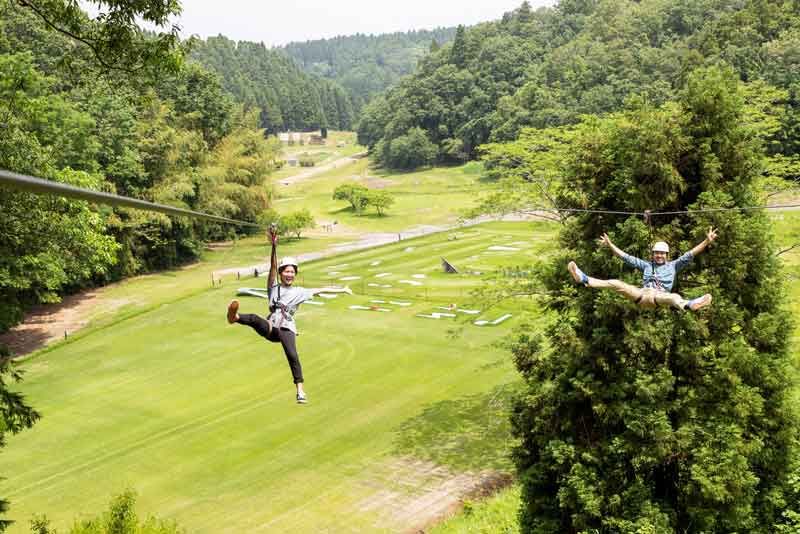 Everybody loves a good outing in the forest, and nothing compares to the feeling of rushing between trees with many meters between you and the beautiful grass below. Explore a serene forest in Chiba!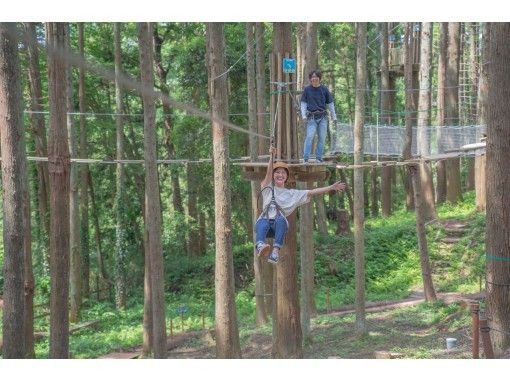 Play in the Forest with Your Friends and Family in an Adrenaline-Inducing Adventure Course in Nagara, Chiba!
Nagara, Chiba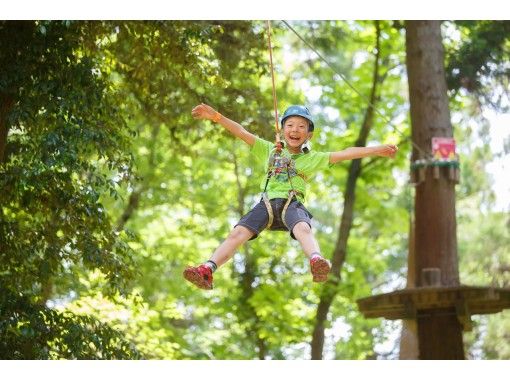 Experience the Thrill of Zip Lining, Treetop Climbing Adventures in Chiba! (Beginner and Children-Friendly Course)
Nagara, Chiba
9. Japan's largest zip line experience in Fukui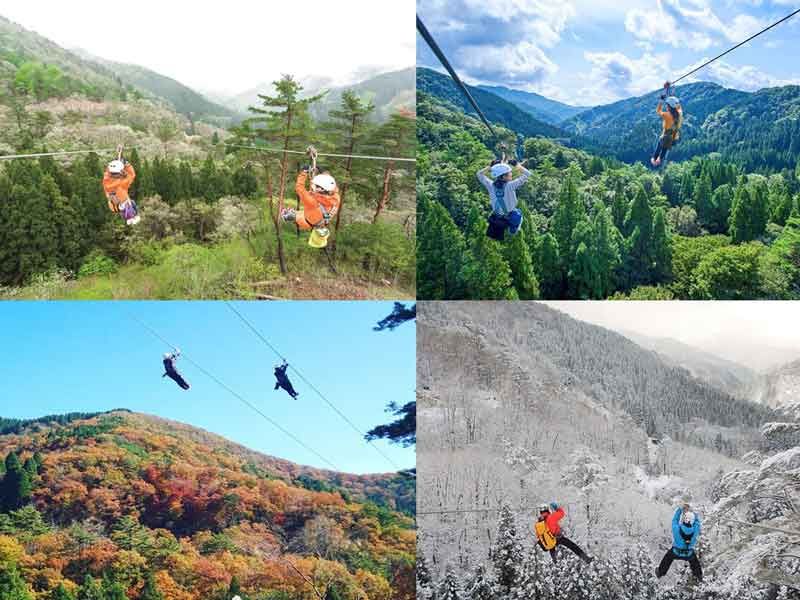 Offering a record-breaking 60 m high and 510 m long mega zip line, this Ikeda Town course offers a massive flying experience above a beautiful tree line. In autumn, the green of foliage is replaced by gorgeous red and orange while the winter cover of snow is enchanting!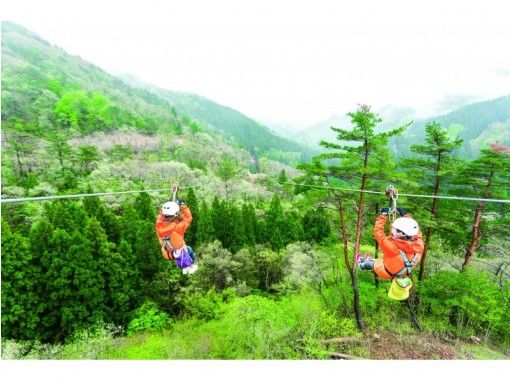 Fly Across Breathtaking Scenery at a 510m Long in a Thrilling Ziplining Adventure in Fukui!
Ikeda, Fukui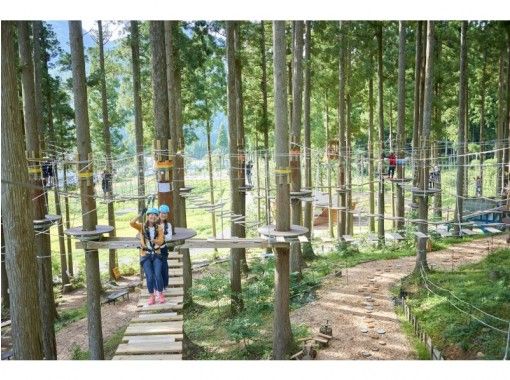 Experience Fun Outdoor Adventures in the Refreshing Nature of Fukui!
Ikeda, Fukui
10. Incredible sights from a Chichibu zipline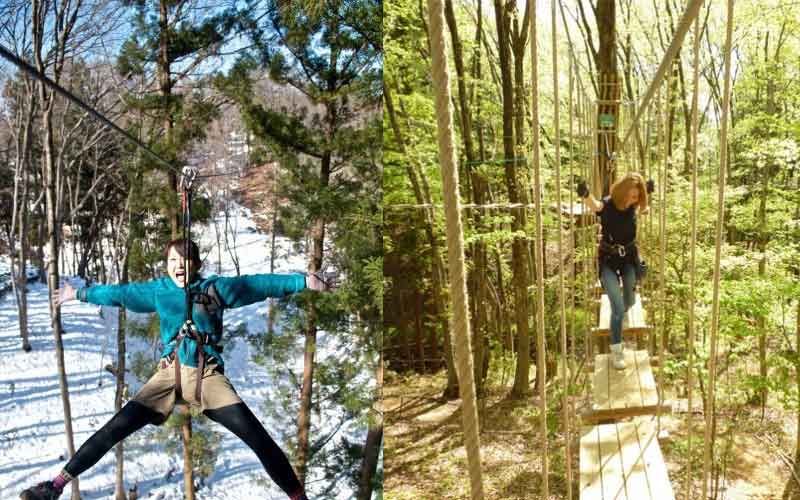 Put your body to the test against a real fitness challenge in Chichibu, Saitama. The course ensures physical workouts through artificial rock climbing and six scenic zipline swings that rush over a green valley!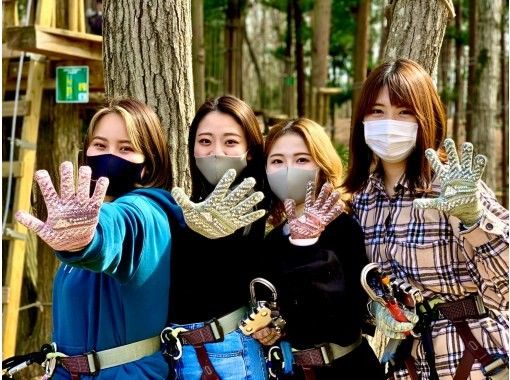 Fun for the Whole Family: Forest Adventure Experience in Chichibu!
Kuna, Chichibu, Saitama
11. Fun heights and good food on zipline adventures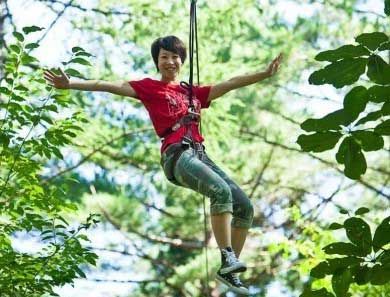 Adjacent to the famous Takeda castle, this Hyogo forest adventure presents a day of fun entailing rope walking and swings. Sit down to a delicious barbecue of roasted beef, corn, vegetables, and more afterward!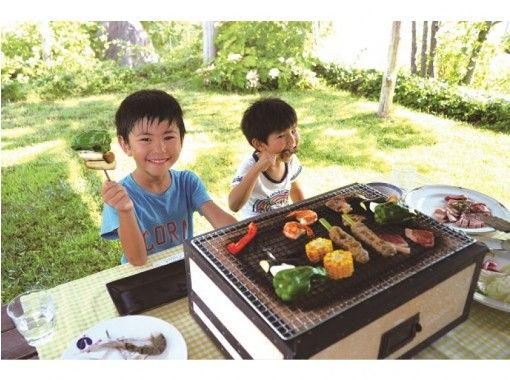 Oku Kannabe Thrilling Forest Adventure and Delicious BBQ Lunch in Hyogo!
Toyooka, Hyogo
12. Find the key to happiness in Shiga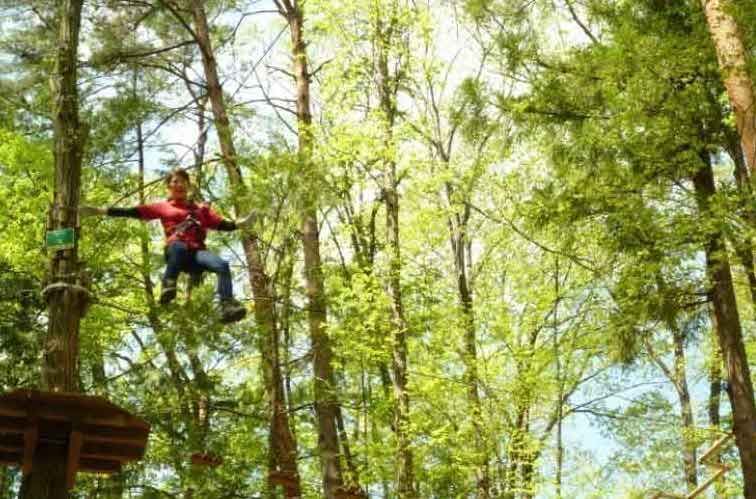 A happy life is not hard to find, courtesy of Ritto canopy and adventure courses that let loose your inner child! Watch as the troubles fade away and are replaced by the joy of defying gravity through ziplines and bouldering!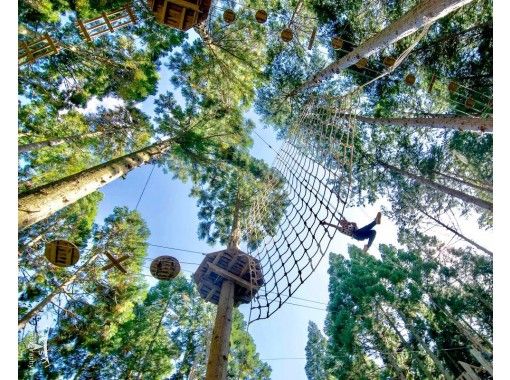 Forest Adventure Ritto: Enjoy a Day Filled with Thrilling Outdoor Activities Surrounded by Beautiful Greenery Sceneries!
Ritto, Shiga
Frequently asked questions
Q

How did forest adventures start in Japan?

AThe first forest adventure started in France as team building for company employees. However, the treetop playground, entailing climbing and ziplining, was opened to all due to overwhelming public demand. It spread internationally, and now the same company offers forest adventures in Japan via partnerships!
Q

Are there any good places to zipline in Japan?

AFor the biggest ziplining challenge in the country, you can sign up for a 510-meter long course in Fukui. Family-friendly forest adventure courses are also available in Nagano, Hokkaido, Saitama, Chiba, and Hyogo, among other places throughout Japan.
Q

What kid-friendly, outdoor activities can families try out in Japan?

AThe entire family is sure to have a good time on a forest adventure. Hyogo barbecues and forest adventures are excellent weekend getaway ideas with the children, especially if your loved one is celebrating a special day such as a birthday.
Q

Are children allowed in forest adventure parks?

AForest adventure parks are not for adults only; in fact, children tend to have the best time in the courses and are highly encouraged to participate. There are no restrictions, and both the young and young-at-heart are welcome to try out the experience.
Q

Are forest adventure activities dangerous?

ASafety equipment is provided to all forest adventure participants to ensure they have fun but remain safe at all times. Ultimately, participants are responsible for their individual safety. Please make sure to observe all necessary safety guidelines, like secure harness attachment, and others as guided.